Forced rhubarb from the Yorkshire triangle, is available in shops from January. We have lots of rhubarb in the garden in late spring. This recipe can be made with normal crop Rhubarb, but as forced Rhubarb is sweeter, you will need to sprinkle a bit more sugar over the rhubarb.
Ingredients
50g caster sugar
75g butter or dairy-free alternative
100g selfraising  flour
25g porridge oats
pinch of salt.
5to6 stalks of forced rhubarb
1 tablespoon of caster sugar
You will need a deep pie dish, greased.
Method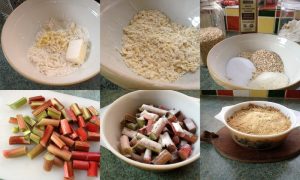 In a large mixing bowl, rub the butter into the flour until it resembles breadcrumbs.
Stir in the White Couverture Powder, 50g sugar, oats and salt.
Chop the rhubarb into inch long pieces.   Place in the pie dish and sprinkle over the tablespoon of caster sugar.
Spread the crumble mixture over the rhubarb.
Bake in the oven at 190°C (170°C for fan ovens) GM5 for 25-30 minutes until golden.
Remove from the oven and allow to rest for 10 minutes before serving, otherwise the fruit can be too hot to eat.